Friday, October 20, 2017
Traditional First Post Anticipating Hallowmas
October 20th is when I begin to really get into Hallowmas mode, and I like to begin each year with a quotation from one of my favorite novels from my required reading at prep school.
"First of all, it was October, a rare month for boys. Not that all months aren't rare. But there be good and bad, as the pirates say. Take September, a bad month: school begins. Consider August, a good month: school hasn't begun yet. July, well, July's really fine: there's no chance in the world for school. June, no doubting it, June's best of all, for the school doors spring wide and September's a billion years away.

But you take October, now. School's been on a month and you're riding easier in the reins, jogging along. You got time to think of the garbage you'll dump on old man Prickett's porch, or the hairy ape costume you'll wear to the YMCA on the last night of the month. And if it's around October twentieth and everything smoky smelling and the sky orange and ash gray at twilight, it seems Halloween will never come in a fall of broomsticks and a soft flap of bedsheets around corners."
From the Prologue to Ray Bradbury's
Something Wicked This Way Comes
, published in 1962.
Ray Bradbury, who died this year, was very much a modern. But his work was not imbued with modernism. You might call his style modernity without modernism. His
Fahrenheit 451
, which I read eleven years ago for the first time, is one of the most conservative statements in favor of classical learning and against the mainstream pseudo-culture of TV that you will find written in the 20th century.
Something Wicked This Way Comes
,
Dandelion Wine
, and
The Illustrated Man
show us a most welcome positive view of small town America (with a twist, of course, this is fiction, and imaginative fiction at that). Bradbury's normative themes are refreshing and real and far more authentic to the human experience (while being faithful to the cultural tradition of which they are a part) than the works of hundreds of authors whose books cram the local Barnes & Noble or Borders.
In years past, I searched my local bookstores each year for
The Halloween Tree
, which I was only familiar with from the animated TV Halloween special done years ago (Leonard Nimoy as the voice of Moonshroud). No luck. Finally picked up a used copy for short money last year and read it for the first time. Loved it!
The difference is that, in 100 years, no one will recall who these authors were, or why what they had to say. But people will still read Bradbury for pleasure.
Others achieve the same plateau of excellence: Tolkien, Eliot, Lewis, Frost, O'Brian, O'Connor, Kirk, Hawthorne, Pope, Wodehouse, Waugh, Faulkner, Wolfe, O'Conner, maybe Rowling. Their stuff will stand the test of time. Not only is Bradbury a friend of what Russell Kirk called "the permanent things," and a friend of Kirk, but his work is part of that cultural patrimony we must pass down.
Bradbury has for me made October 20th a milestone, a day in which Halloween begins to be anticipated. Halloween, the eve of All Saints' and the build-up for the Catholic Day of the Dead, All Souls', has taken some hard knocks, mostly unjustified. Opportunistic modern wiccans and pagans, especially in Salem, have claimed as their own a holiday that has nothing to do with them and their New Age, and never did.
The celebration of the day is Celtic and Christian. It is the dying time of the year, with the harvest almost all in now, and even the green leaves of summer suddenly blazing into brilliant color and then dropping to the ground. The days are growing notably colder and shorter. It is the appropriate time to recall our dead, to think about, and to pray for all the dead. The merry season of Christmas lies ahead. But, as the liturgical year winds down over the next 5 weeks, let us pause to recall death. It is the first of the Four Last Things, after all.
If part of thinking about it is reading old gothic ghost stories over a mug of mulled cider by candlelight in the privacy of one's study, or watching movies about ghosts, witches, vampires, werewolves, and monsters, or impressing the imagination of children by decorating a "haunted house" and handing out enough candy to make them spit out teeth the next day, or carving pumpkins in imitation of the Irish custom of the carved turnip of Jack of the Lantern, or burning leaves at night, there is no harm in it.
But the experience is made richer by remembering the saints of the Church on All Hallows' Day itself, and by praying for the dead, our dead, and the forgotten, unknown poor souls in Purgatory throughout November. And if dressing up as ghosts in bedsheets (I used the "Charlie Brown" costume once or twice as a kid) and going door to door like the people in Celtic villages who dressed up as those who had died during the year did to seek propitiary offerings, or those who, in Christian times, performed the luck-visit ritual of going a'souling, then it is a start.
The important thing is to get people to start to remember the dead. Then build on that foundation. Just getting them to think of the dead as something other than inventory for a graveyard and an object of horror is a necessary start. We will all die, and will want to be remembered and prayed for. Purgatory is no easy thing, if we are lucky enough to get there. So remember the dead, and pray for them, because in time you may be that poor forgotten soul in Purgatory, wishing someone would remember you in their prayers with a longing that we can scarcely conceive.
Memento Mori!
Remember that you will die, too. As you are now, so the dead once were. As the dead are now, so you will one day be.
And the number one thing the dead need is prayers. Prayers, Masses, and Rosaries are of foremost importance for the dead in Purgatory.
My Jesus, by the sorrows Thou didst suffer in Thine agony in the Garden, in Thy scourging and crowning with thorns, on the way to Calvary, in Thy crucifixion and death, have mercy on the souls in Purgatory, and especially on those that are most forsaken; do Thou deliver them from the terrible torments they endure; call them and admit them to Thy most sweet embrace in paradise.
Amen.
Wednesday, October 18, 2017
Saint Luke, Evangelist
Saint Luke the Evangelist from the
Lindisfarne Gospels
Saint Luke was probably the author, or at least the source, of the Acts of the Apostles, as well.
Saint Luke, please pray for us!
Tuesday, October 17, 2017
Saint Margaret Mary Alacoque, Virgin
The Catholic Encyclopedia
The Twelve Promises Of Our Lord To Saint Margaret Mary For Those Devoted To His Sacred Heart
1-I will give them all the graces necessary for their state of life.
2-I will establish peace in their families.
3-I will console them in all their troubles.
4-They shall find in My Heart an assured refuge during life and especially
at the hour of their death.
5-I will pour abundant blessings on all their undertakings.
6-Sinners shall find in My Heart the source of an infinite ocean of mercy.
7-Tepid souls shall become fervent.
8-Fervent souls shall speedily rise to great perfection.
9-I will bless the homes where an image of My Heart shall be exposed and honored.
10-I will give to priests the power of touching the most hardened hearts.
11-Those who propagate this devotion shall have their names written in
My Heart, never to be effaced.
12-The all-powerful love of My Heart will grant to all those who shall
receive Communion on the First Friday of nine consecutive months the grace
of final repentance; they shall not die under my displeasure, nor without
receiving their Sacraments; My heart shall be their assured refuge at that
last hour.
Read also the explanations of the promises by Father Joseph McDonnell, SJ.
The Secret of Saint Margaret Mary
, translated by Frank Sheed
A Salutation To the Sacred Heart
, by Saint Margaret Mary Alocoque
Hail, Heart of Jesus, save me!
Hail, Heart of my Creator, perfect me!
Hail, Heart of my Saviour, deliver me!
Hail, Heart of my Judge, grant me pardon!
Hail, Heart of my Father, govern me!
Hail, Heart of my Spouse, grant me love!
Hail, Heart of my Master, teach me!
Hail, Heart of my King, be my crown!
Hail, Heart of my Benefactor, enrich me!
Hail, Heart of my Shepherd, guard me!
Hail, Heart of my Friend, comfort me!
Hail, Heart of my Brother, stay with me!
Hail, Heart of the Child Jesus, draw me to Thyself!
Hail, Heart of Jesus dying on the Cross, redeem me!
Hail, Heart of Jesus in all Thy states, give Thyself to me!
Hail, Heart of incomparable goodness, have mercy on me!
Hail, Heart of splendor, shine within me!
Hail, most loving Heart, inflame me!
Hail, most merciful Heart, work within me!
Hail, most humble Heart, dwell within me!
Hail, most patient Heart, support me!
Hail, most faithful Heart, be my reward!
Hail, most admirable and most worthy Heart, bless me!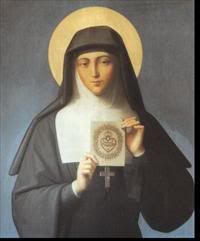 There is a more in-depth life of Saint Margaret Mary at

Pierced Hearts
Saint Margaret Mary's Prayer of Consecration To the Sacred Heart
I, ( your name. . .), give myself and consecrate to the Sacred Heart of our Lord Jesus Christ my person and my life, my actions, pains, and sufferings, so that I may be unwilling to make use of any part of my being save to honor, love, and glorify the Sacred Heart.
This is my unchanging purpose, namely, to be all His, and to do all things for the love of Him, at the same time renouncing with all my heart whatever is displeasing to Him.
I therefore take Thee, O Sacred Heart, to be the only object of my love, the guardian of my life, my assurance of salvation, the remedy of my weakness and inconstancy, the atonement for all the faults of my life and my sure refuge at the hour of death.
Be then, O Heart of goodness, my justification before God Thy Father, and turn away from me the strokes of His righteous anger. O Heart of love, I put all my confidence in Thee, for I fear everything from my own wickedness and frailty; but I hope for all things from Thy goodness and bounty.
Do Thou consume in me all that can displease Thee or resist Thy holy will. Let Thy pure love imprint Thee so deeply upon my heart that I shall nevermore be able to forget Thee or to be separated from Thee. May I obtain from all Thy loving kindness the grace of having my name written in Thee, for in Thee I desire to place all my happiness and all my glory, living and dying in true bondage to Thee.
Amen.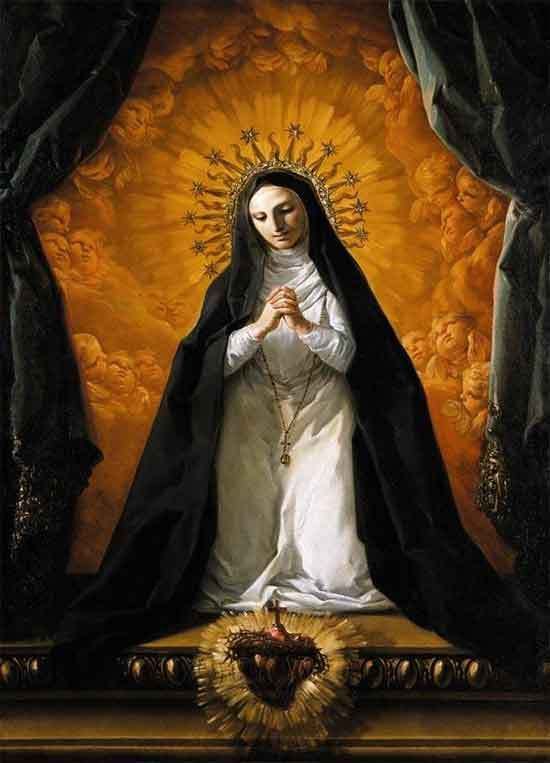 Saint Margaret Mary, please pray for us!
Monday, October 16, 2017
Saint Gerard Majella, Confessor
Patron of women in childbirth or having a difficult pregnancy (and also of good confessions).
http://www.catholic-forum.com/saints/saintg06.htm
Saint Gerard Majella, please pray for us!
Sunday, October 15, 2017
Saint Teresa Of Avila, Virgin & Doctor Of the Church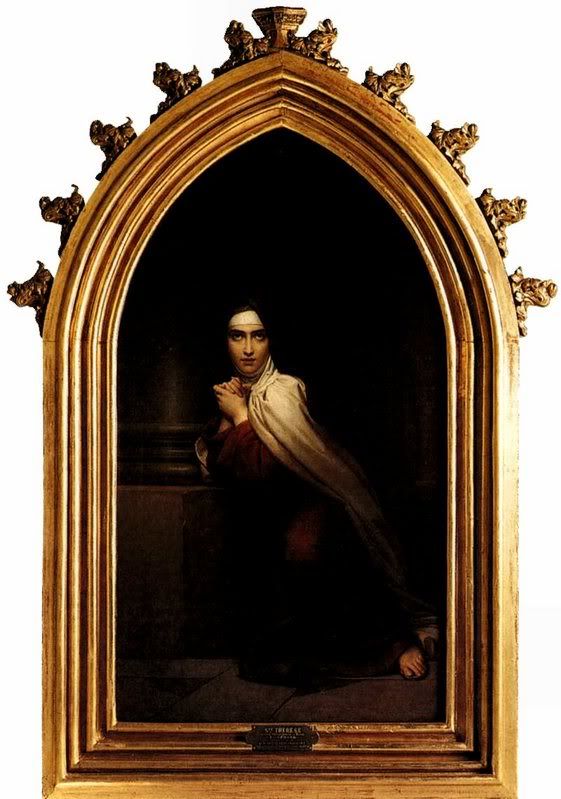 Today is the feast of this great Carmelite reformer and mystic.
Prayer Of Saint Teresa of Avila To Redeem Wasted Time
O my God! Source of all mercy! I acknowledge Thy sovereign power. While recalling the wasted years that are past, I believe that Thou, Lord, can, in an instant, turn this loss to gain. Miserable as I am, yet I firmly believe that Thou canst do all things. Please restore to me the time lost, giving me Thy grace, both now and in the future, that I may appear before Thee in "wedding garments." Amen.
Saint Teresa of Avila, please pray for us!
Saturday, October 07, 2017
Our Blessed Lady Of the Rosary & the Battle Of Lepanto
The history of the feast from

The Catholic Encyclopedia

.
The Fifteen Promises To Those Who Recite the Rosary given By Our Blessed Lady to Saint Dominic:
1. Whoever shall faithfully serve me
by the recitation of the Rosary, shall
receive signal graces.
2. I promise my special protection
and the greatest graces to all those
who shall recite the Rosary.
3. The Rosary shall be a powerful
armor against hell, it will destroy
vice, decrease sin, and defeat heresies.
4. It will cause virtue and good works
to flourish; it will obtain for souls the
abundant mercy of God; it will with-
draw the hearts of men from the love
of the world and its vanities, and will
lift them to the desire of eternal
things. Oh, that souls would sanctify
themselves by this means.
5. The soul which recommends itself
to me by the recitation of the Rosary,
shall not perish.
6. Whoever shall recite the Rosary
devoutly, applying himself to the
consideration of its sacred mysteries
shall never be conquered by misfor-
tune. God will not chastise him in His
justice, he shall not perish by an
unprovided death; if he be just he
shall remain in the grace of God, and
become worthy of eternal life.
7. Whoever shall have a true
devotion for the Rosary shall not die
without the sacraments of the Church.
8. Those who are faithful to recite the
Rosary shall have during their life and
at their death the light of God and the
plentitude of His graces; at the
moment of death they shall participate
in the merits of the saints in paradise.
9. I shall deliver from purgatory those
who have been devoted to the Rosary.
10. The faithful children of the Rosary
shall merit a high degree of glory in
heaven.
11. You shall obtain all you ask of me
by the recitation of the Rosary.
12. All those who propagate the holy
Rosary shall be aided by me in their
necessities.
13. I have obtained from my Divine
Son that all the advocates of the
Rosary shall have for intercessors
the entire celestial court during their life
and at the hour of death.
14. All who recite the Rosary are my
sons, and brothers of my only Son
Jesus Christ.
15. Devotion of my Rosary is a great
sign of predestination.
This is the anniversary of the great Catholic victory over the Moslems at Lepanto. We need another great Catholic victory against a Moslem in Christian clothing who seems to be fooling a lot of people today.
Lepanto
by G.K. Chesterton
White founts falling in the Courts of the sun,
And the Soldan of Byzantium is smiling as they run;
There is laughter like the fountains in that face of all men feared,
It stirs the forest darkness, the darkness of his beard;
It curls the blood-red crescent, the crescent of his lips;
For the inmost sea of all the earth is shaken with his ships.
They have dared the white republics up the capes of Italy,
They have dashed the Adriatic round the Lion of the Sea,
And the Pope has cast his arms abroad for agony and loss,
And called the kings of Christendom for swords about the Cross.
The cold queen of England is looking in the glass;
The shadow of the Valois is yawning at the Mass;
From evening isles fantastical rings faint the Spanish gun,
And the Lord upon the Golden Horn is laughing in the sun.
Dim drums throbbing, in the hills half heard,
Where only on a nameless throne a crownless prince has stirred,
Where, risen from a doubtful seat and half attainted stall,
The last knight of Europe takes weapons from the wall,
The last and lingering troubadour to whom the bird has sung,
That once went singing southward when all the world was young.
In that enormous silence, tiny and unafraid,
Comes up along a winding road the noise of the Crusade.
Strong gongs groaning as the guns boom far,
Don John of Austria is going to the war,
Stiff flags straining in the night-blasts cold
In the gloom black-purple, in the glint old-gold,
Torchlight crimson on the copper kettle-drums,
Then the tuckets, then the trumpets, then the cannon, and he comes.
Don John laughing in the brave beard curled,
Spurning of his stirrups like the thrones of all the world,
Holding his head up for a flag of all the free.
Love-light of Spain--hurrah! Death-light of Africa! Don John of Austria Is riding to the sea.
Mahound is in his paradise above the evening star,
(Don John of Austria is going to the war.)
He moves a mighty turban on the timeless houri's knees,
His turban that is woven of the sunsets and the seas.
He shakes the peacock gardens as he rises from his ease,
And he strides among the tree-tops and is taller than the trees;
And his voice through all the garden is a thunder sent to bring
Black Azrael and Ariel and Ammon on the wing.
Giants and the Genii, Multiplex of wing and eye,
Whose strong obedience broke the sky
When Solomon was king.
They rush in red and purple from the red clouds of the morn,
From the temples where the yellow gods shut up their eyes in scorn;
They rise in green robes roaring from the green hells of the sea
Where fallen skies and evil hues and eyeless creatures be,
On them the sea-valves cluster and the grey sea-forests curl,
Splashed with a splendid sickness, the sickness of the pearl;
They swell in sapphire smoke out of the blue cracks of the ground,--
They gather and they wonder and give worship to Mahound.
And he saith, "Break up the mountains where the hermit-folk can hide,
And sift the red and silver sands lest bone of saint abide,
And chase the Giaours flying night and day, not giving rest
For that which was our trouble comes again out of the west.
We have set the seal of Solomon on all things under sun,
Of knowledge and of sorrow and endurance of things done.
But a noise is in the mountains, in the mountains, and I know
The voice that shook our palaces--four hundred years ago:
It is he that saith not 'Kismet'; it is he that knows not Fate;
It is Richard, it is Raymond, it is Godfrey at the gate!
It is he whose loss is laughter when he counts the wager worth,
Put down your feet upon him, that our peace be on the earth."
For he heard drums groaning and he heard guns jar,
(Don John of Austria is going to the war.)
Sudden and still--hurrah!
Bolt from Iberia!
Don John of Austria
Is gone by Alcalar.
St. Michaels on his Mountain in the sea-roads of the north
(Don John of Austria is girt and going forth.)
Where the grey seas glitter and the sharp tides shift
And the sea-folk labour and the red sails lift.
He shakes his lance of iron and he claps his wings of stone;
The noise is gone through Normandy; the noise is gone alone;
The North is full of tangled things and texts and aching eyes,
And dead is all the innocence of anger and surprise,
And Christian killeth Christian in a narrow dusty room,
And Christian dreadeth Christ that hath a newer face of doom,
And Christian hateth Mary that God kissed in Galilee,--
But Don John of Austria is riding to the sea.
Don John calling through the blast and the eclipse
Crying with the trumpet, with the trumpet of his lips,
Trumpet that sayeth ha!
Domino gloria! Don John of Austria
Is shouting to the ships.
King Philip's in his closet with the Fleece about his neck
(Don John of Austria is armed upon the deck.)
The walls are hung with velvet that is black and soft as sin,
And little dwarfs creep out of it and little dwarfs creep in.
He holds a crystal phial that has colours like the moon,
He touches, and it tingles, and he trembles very soon,
And his face is as a fungus of a leprous white and grey
Like plants in the high houses that are shuttered from the day,
And death is in the phial and the end of noble work,
But Don John of Austria has fired upon the Turk.
Don John's hunting, and his hounds have bayed--
Booms away past Italy the rumour of his raid.
Gun upon gun, ha! ha!
Gun upon gun, hurrah!
Don John of Austria
Has loosed the cannonade.
The Pope was in his chapel before day or battle broke,
(Don John of Austria is hidden in the smoke.)
The hidden room in man's house where God sits all the year,
The secret window whence the world looks small and very dear.
He sees as in a mirror on the monstrous twilight sea
The crescent of his cruel ships whose name is mystery;
They fling great shadows foe-wards, making Cross and Castle dark,
They veil the plumèd lions on the galleys of St. Mark;
And above the ships are palaces of brown, black-bearded chiefs,
And below the ships are prisons, where with multitudinous griefs,
Christian captives sick and sunless, all a labouring race repines
Like a race in sunken cities, like a nation in the mines.
They are lost like slaves that sweat, and in the skies of morning hung
The stair-ways of the tallest gods when tyranny was young.
They are countless, voiceless, hopeless as those fallen or fleeing on
Before the high Kings' horses in the granite of Babylon.
And many a one grows witless in his quiet room in hell
Where a yellow face looks inward through the lattice of his cell,
And he finds his God forgotten, and he seeks no more a sign--
(But Don John of Austria has burst the battle-line!)
Don John pounding from the slaughter-painted poop,
Purpling all the ocean like a bloody pirate's sloop ,
Scarlet running over on the silvers and the golds,
Breaking of the hatches up and bursting of the holds,
Thronging of the thousands up that labour under sea
White for bliss and blind for sun and stunned for liberty.
Vivat Hispania!
Domino Gloria!
Don John of Austria
Has set his people free!
Cervantes on his galley sets the sword back in the sheath
(Don John of Austria rides homeward with a wreath.)
And he sees across a weary land a straggling road in Spain,
Up which a lean and foolish knight for ever rides in vain,
And he smiles, but not as Sultans smile, and settles back the blade....
(But Don John of Austria rides home from the Crusade.)
Wednesday, October 04, 2017
Today Would Have Been My Father's 97th Birthday
He died December 31, 1989, at the age of 69.

O God, who hast commanded us to honor our father and our mother; in Thy mercy have pity on the souls of George my father and Kathryn my mother, and forgive them their trespasses; and make me to see them again in the joy of everlasting brightness. Through Christ our Lord.
Amen.

V. Requiem aeternam dona ei, Domine,
R. Et lux perpetua luceat ei.
V. Requiescat in pace.
R. Amen.

"The Old Man"
The tears have all been shed now
We've said our last good-byes
His soul's been blessed and he's laid to rest
And it's now I feel alone.
He was more than just a father
My teacher, my best friend
He can still be heard in the tunes we shared
When I play them on my own.

I never will forget him for he made me what I am
Though he may be gone memory lingers on
And I miss him ... The Old Man.

As a boy he'd take me walkin'
By mountian, field, and stream
And he showed me things not known to kings
Just secret between him and me.
Like the colors of a pheasant
As he rises in the dawn
And how to fish and make a wish
Beside the holly tree

I never will forget him for he made me what I am
Though he may be gone memory lingers on
And I miss him ... The Old Man.

I thought he'd live forever
He seemed so big and strong
But the minutes fly and the years roll by
For a father and his son
And suddenly when it happened
There was so much left unsaid
No second chance to tell him thanks
For everything he'd done

I never will forget him for he made me what I am
Though he may be gone memories linger on
God, I miss him ... The Old Man.

Phil Coulter's song, performed by George Donaldson of Celtic Thunder:


Saint Francis Of Assisi, Confessor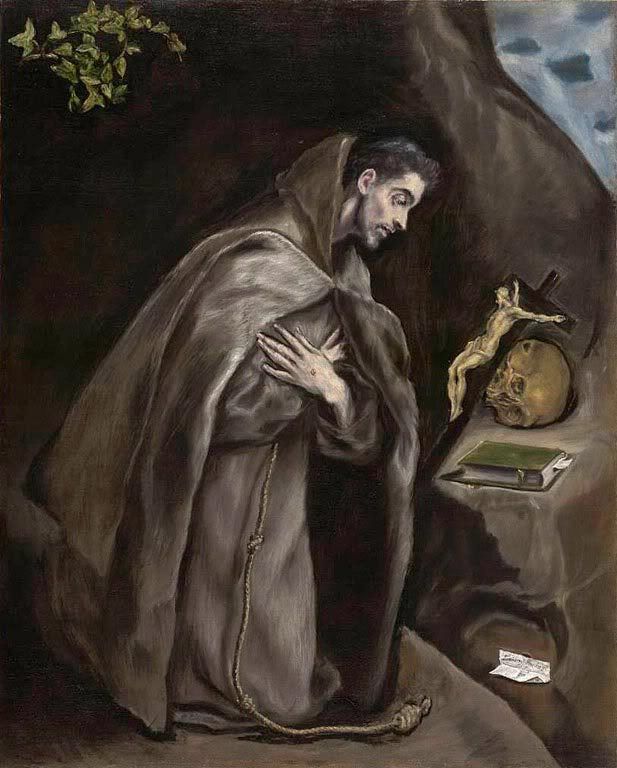 Saint Francis is a great saint, if you can get past the syrupy nonsense people who claim to be devoted to him claim is his legacy. Aside from his personal holiness, and I doubt that many could take holiness to a higher level than Francis did, there is his founding of one of the most important orders in the history of Christendom (actually, he founded three orders, and others have sprung up from that tradition and family of orders), his invention of the Christmas creche scene, his extension of the love of Christ to animals and all creation, and his being a stigmatist, his is also one of the most striking conversion stories in the history of the Church.
The Golden Legend
The Catholic Encyclopedia

Saint Francis took mortification of the flesh very seriously. When he found the desires of the flesh beginning to take hold, he used to roll around in thorn bushes, to drive them away. If only moderns did that, I doubt we would have heard anything of a pervert priest scandal these last 10 years.
There was no humbug about Saint Francis. He truly loved those in need, the poor, and all creation. Where friars since his time have grown fat and overfed, with far too much luxury for a mendicant order, he, who came from wealth, lived a life of real poverty. And where modern friars make a show of doing good works institutionally, but then drive the poor from their own door, Saint Francis adopted a radical love for others that involved genuine giving of himself.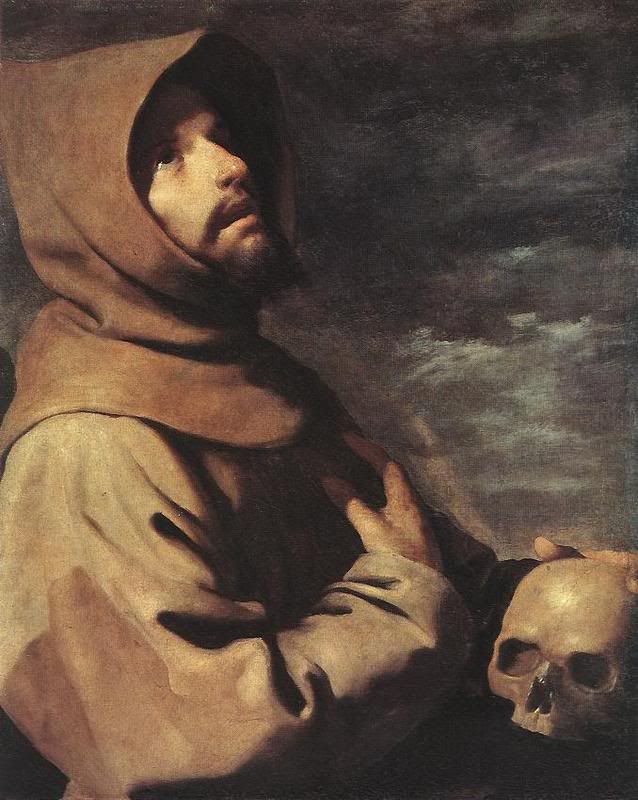 Saint Francis entertained an abiding, even fierce desire to give his life for the Faith. He made several efforts to go to Moslem lands, so that he would be martyred. But obstacles prevented his first efforts. But he persisted. When he finally made it to Moslem-controlled territory, the local emir or pasha listened politely to him, discoursed with him, and then sent him back to Italy. Later, when some seven of his followers were martyred by the Moslems, he exclaimed, "Now I have seven true friars minor!". Thwarted in his own effort to die for the Faith, he recklessly undertook dramatic penances, and did things like embracing lepers.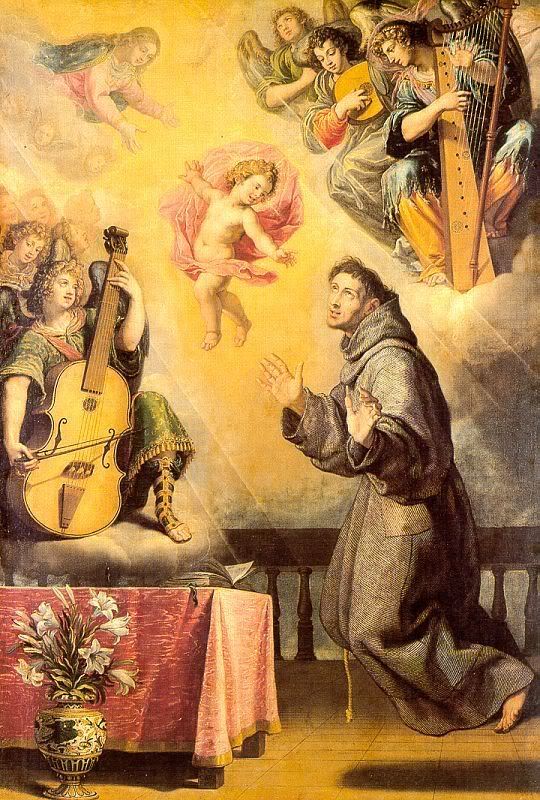 The stigmata he received, like that of Saint Padre Pio, gave constant pain and discharge. Also like Pio, he had the gift of bilocation.
One thing most people don't know about Saint Francis is that he was never ordained a priest. He could never say Mass. All he could do was assist at Mass. Why wasn't he ordained? Was he illiterate? No. Too stupid to learn the Latin? No. He was too humble to take onto himself the role of the priest.
Put aside the phony "Prayer of Saint Francis" which he had nothing to do with, and was not even written until the 20th century, when it was "discovered" by an American bishop visiting Italy. Pray instead this prayer, truly the work of Saint Francis:
Hail Lady, Holy Queen, Holy Mary Mother of God,
Who art the Virgin made Church
And the One elect by the Most Holy Father of Heaven,
Whom He consecrated with His Most Holy beloved Son
And with the Holy Ghost, the Paraclete;
Thou in whom was and is all fullness of grace and every good.
Hail His Palace;
Hail His Tabernacle;
Hail His Home.
Hail His Vestment;
Hail His Handmaid;
Hail His Mother
And hail all thee holy virtues, which through the grace and illumination of the Holy Ghost are infused into the hearts of the faithful, so that from those unfaithful thou make them faithful to God.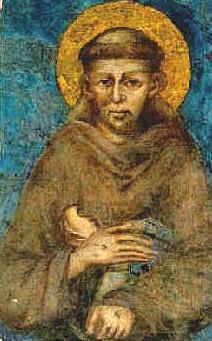 Or this prayer, which he said before the Crucifix of San Damiano, when he was given his commission:
All-highest, glorious God, cast Thy light into the darkness of my heart. Give me true faith, firm hope, perfect charity and profound humility, with wisdom and perception, O Lord, so that I may do what is truly Thy holy Will.
Amen.