Friday, December 08, 2017
The Immaculate Conception Of Our Blessed Lady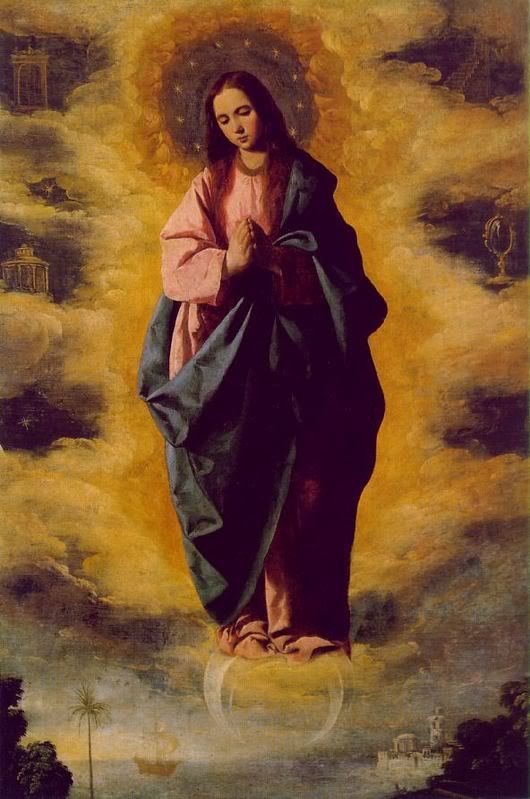 Today is one of the principal feasts of Our Blessed Lady, and a Holy Day of Obligation
From Dom Prosper Gueranger's
The Liturgical Year

.
Prayer For the Immaculate Conception by Pope Pius XII
Enraptured by the splendor of thy heavenly beauty, and impelled by the anxieties of the world, we cast ourselves into thine arms, O Immacuate Mother of Jesus and our Mother, Mary, confident of finding in thy most loving heart appeasement of our ardent desires, and a safe harbor from the tempests which beset us on every side.
Though degraded by our faults and overwhelmed by infinite misery, we admire and praise the peerless richness of sublime gifts with which God has filled thee, above every other mere creature, from the first moment of thy conception until the day on which, after thine assumption into Heaven, He crowned thee Queen of the Universe.
O crystal fountain of faith, bathe our minds with the eternal truths! O fragrant Lily of all holiness, captivate our hearts with thy heavenly perfume! O Conqueress of evil and death, inspire in us a deep horror of sin, which makes the soul detestable to God and a slave of Hell!
O well-beloved of God, hear the ardent cry which rises up from every heart. Bend tenderly over our aching wounds. Convert the wicked, dry the tears of the afflicted and oppressed, comfort the poor and humble, quench hatreds, sweeten harshness, safeguard the flower of purity in youth, protect the holy Church, make all men feel the attraction of Christian goodness. In thy name, resounding harmoniously in Heaven, may they recognize that they are brothers, and that the nations are members of one family, upon which may there shine forth the sun of a universal and sincere peace.
Receive, O most sweet Mother, our humble supplications, and above all obtain for us that, one day, happy with thee, we may repeat before thy throne that hymn which today is sung on earth around thine altars: Thou art all-beautiful, O Mary! Thou art the glory, thou art the joy, thou art the honor of our people!
Amen.
From Saint Alphonsus Liguori's

The Glories of Mary
Saint Maximilian Kolbe on the dogma of the Immaculate Conception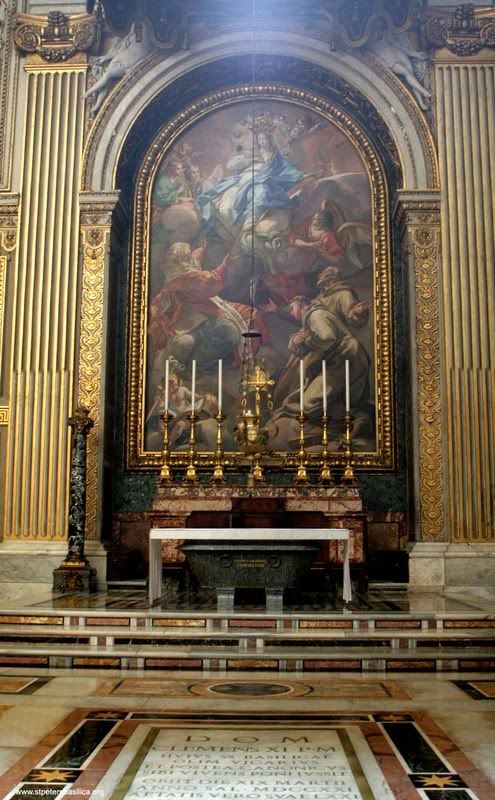 Novena For the Immaculate Conception, Day 8
Invocation (to be Said Every Day of the Novena):
Thou art all fair, O Mary,
The Original Stain is not in thee.
Thou art the glory of Jerusalem,
Thou, the joy of Israel,
Thou, the great honor of our people
Thou, the advocate of sinners.
O Mary,
O Mary,
Virgin most prudent,
Mother most merciful,
Pray for us,
Intercede for us with our Lord Jesus Christ.
O Mary, Mother of God and Mother of us, thou who by a singular privilege, in virtue of the foreseen death of our Redeemer, wast redeemed from the first moment of thy conception and preserved immune from every spot of Original Sin, we firmly believe in this thy privilege and we proclaim it aloud, saying: "Thou art all fair, O Mary, and in thee there is no stain"; thou art the Immaculate; thy raiment is white as snow; thy face shines like the sun; in thee we marvel at the brightness of eternal light and the spotless mirror of Divine beauty. Like the Divine Redeemer, thou art wholly and utterly fair, for in Him there can be no stain and thou art His most perfect reflection.
We all rejoice in the Lord, as we celebrate the feast that recalls this singular privilege of thine, O Mary, Mother of God and our Mother, and we unite ourselves to thee in magnifying and thanking Our Lord, Who through thee hath done such wondrous deeds, and hath given us in thee good cause for rejoicing.
We would be ever worthy to love thee and to sing thy glories, O Mary, our Immaculate Mother, but we are by nature sons of wrath, and only by grace can we become thy children and acceptable unto thee. From thee we hope for assistance in obtaining the pardon of our sins, the strength to overcome our wicked passions, and to escape the snares. laid for us by the world and the devil. Wherefore, O Immaculate Mother, Mary, inspire in us an intense hatred of sin, perfect contrition for the sins we have committed, and a lively fear of falling again into sin; make our hearts and our bodies immaculate, lest we be confounded forever; and so, being cleansed of sin, with our passions under control, and the enemies of our salvation overcome, with pure hearts burning with love of thee, may we be able to sing to thee with unfaltering voices: "Thou art all fair, O Mary, and in thee there is no Original Stain; thou art our glory, thou art our joy."
Glorious things are spoken of thee, O Mary; for He that is mighty hath done great things unto thee.
Hail Mary...
Novena For the Immaculate Conception, Day 9
Invocation (to be Said Every Day of the Novena):
Thou art all fair, O Mary,
The Original Stain is not in thee.
Thou art the glory of Jerusalem,
Thou, the joy of Israel,
Thou, the great honor of our people
Thou, the advocate of sinners.
O Mary,
O Mary,
Virgin most prudent,
Mother most merciful,
Pray for us,
Intercede for us with our Lord Jesus Christ.
Salutation of Saint Francis to the Virgin Mary

Hail, holy Lady, most holy Queen! Mother of God, Mary ever-Virgin! Chosen by the most holy Father of Heaven, and by Him, with His most holy and beloved Son and the Spirit Paraclete, consecrated! Thou in whom was and is all the fullness of grace and of goodness! Hail, thou, His palace! Hail, thou, His tabernacle! Hail, thou, His home! Hail, thou, His vesture! Hail, thou, His handmaid! Hail, thou, His Mother! And hail, too, all ye holy virtues which, by the grace and light of the Holy Ghost, are poured into the hearts of the faithful, to make them from faithless ones, faithful children of God.
Consecration to Our Blessed Mother
My Queen, my Mother! I give myself entirely to thee, and to show my devotion to thee I consecrate to thee this day, my eyes, my ears, my mouth, my heart, my whole being without reserve, Wherefore, good Mother, as I am thine own, keep me, guard me, as thy property and possession.
Amen.
O God, Who by the Immaculate Conception of the Virgin didst prepare a worthy dwelling place for Thy Son, we entreat Thee, Who didst preserve Her from all stain of sin by the Death of that same Son, foreseen by Thee, to grant that through Her intercession, we also may be made clean, and so may come to Thee, through the same Christ Our Lord.
Amen.
Hail Mary...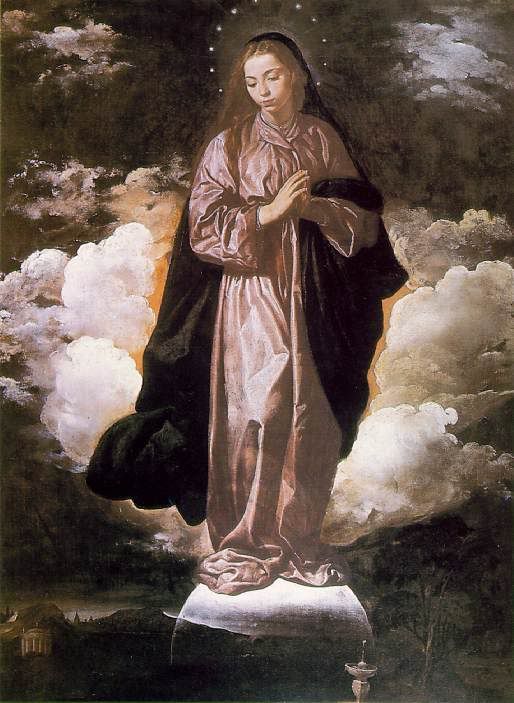 Thursday, December 07, 2017
Saint Ambrose, Bishop, Confessor, & Doctor Of the Church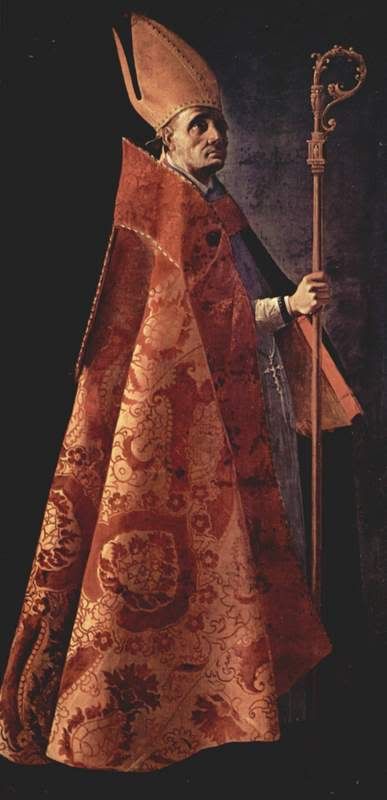 The Catholic Encyclopedia
The Golden Legend
This prayer of his is a weekly part of my prayer life, as I pray it before Mass, even though I only communicate sacramentally 2-3 times per year.
Saint Ambrose's Prayer Before the Most Blessed Sacrament

O loving Lord Jesus Christ, I a sinner, presuming not on my own merits, but trusting in Thy mercy and goodness, with fear and trembling approach the table of Thy most sacred banquet. For I have defiled both my heart and body with many sins, and have not kept a strict guard over my mind and my tongue. Wherefore, O gracious God, O awful Majesty, I, awretched creature, entangled in difficulties, have recourse to Thee the fount of mercy; to Thee do I fly that I may be healed, and take refuge under Thy protection, and I ardently desire to have Him as my Saviour, whom I am unable to face as my Judge.
To Thee, O Lord, I show my wounds, to Thee I lay bare my shame. I know that my sins are many and great, on account of which I am filled with fear. But I trust in Thy mercy, of which there is no end. Look down upon me, therefore, with the eyes of Thy mercy, O Lord Jesus Christ, eternal King, God and Man, crucified for men. Hearken unto me, for my hope is in Thee; have mercy on me, who am full of misery and sin, Thou who wilt never cease to let flow the fountain of mercy.
Hail, Victim of Salvation, offered for me and for all mankind on the gibbet of the cross! Hail, Noble and Most Precious Blood, flowing from the wounds of my crucified Lord Jesus Christ and washing away all the sins of the whole world! Remember, O Lord, Thy creature, whom Thou hast redeemed by Thy Most Precious Blood.
I am grieved because I have sinned. I desire to make amends for what I have done. Take away from me therefore, O most merciful Father, all my iniquities and sins, that, being purified both in soul and body, I may worthily partake of the Holy of Holies. Grant that my reception of Thy Body and Blood, which I purpose, unworthy though I am, may bring to me pardon for my sins, the perfect cleansing of my faults, the expulsion of all evil thoughts, and the renewal of pure feelings, the health and efficacy of good works, pleasing unto Thee, and a most strong protection both in soul and body against the snares of my enemies.
Amen.
Saint Ambrose, please pray for us!
Wednesday, December 06, 2017
Saint Nicholas, Bishop & Confessor
Today is the feast of probably the most popular saint in Christendom, the patron of children, young people, poor people, prisoners, thieves, murderers, pawnbrokers, and those seeking marriage, Saint Nicholas of Myra.
This
is what
The Golden Legend
has to say about him.
The Saint Nicholas Center is your go-to resource on Good Saint Nicholas
.
Wilson's Almanac

also has a great deal of good material.
On the surface, the modern Dutch Sinterclaas looks more like the original bishop of Myra. That despite the fact that the Dutch are perhaps the most post-Christian culture in Europe.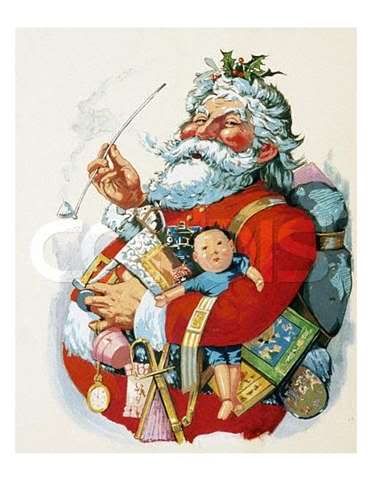 Thomas Nast's 19th century American rendition.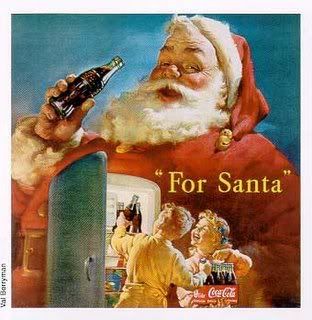 Twentieth Century American artist Haddon Sundblom, working for the Coca Cola Company, helped establish the modern image of Saint Nicholas, or Santa Claus.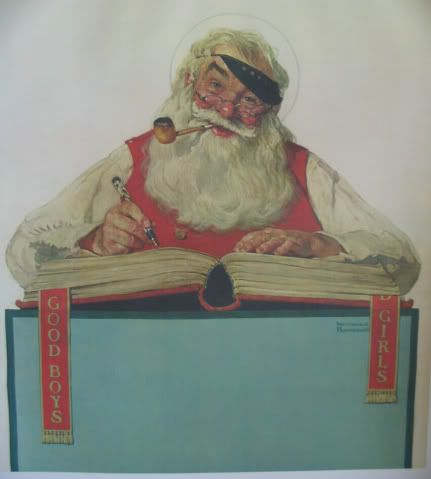 As did Norman Rockwell, working mostly for the
Saturday Evening Post
.
Efforts are made from time to time to update Saint Nicholas' garb and image, but they are rejected by children themselves. Ironically, the young are the ones who insist that Santa looks like this, and nothing else. You can put black boots on him, rather than brown (but they have to be the same style). You can put a strip of white fur down the front of his coat. Sometimes he can wear a harness with sleigh bells. And you can give him green mittens. But changes beyond that are rejected by children out of hand as unbecoming to Jolly Old Saint Nicholas.
Maybe Nast's/Sundblom's/Rockwell's vision has so much staying power because it is anchored in tradition. The red and white coat is an adaptation of a bishop's robes. The miter has become a fur hat.
Happy Saint Nicholas' Day!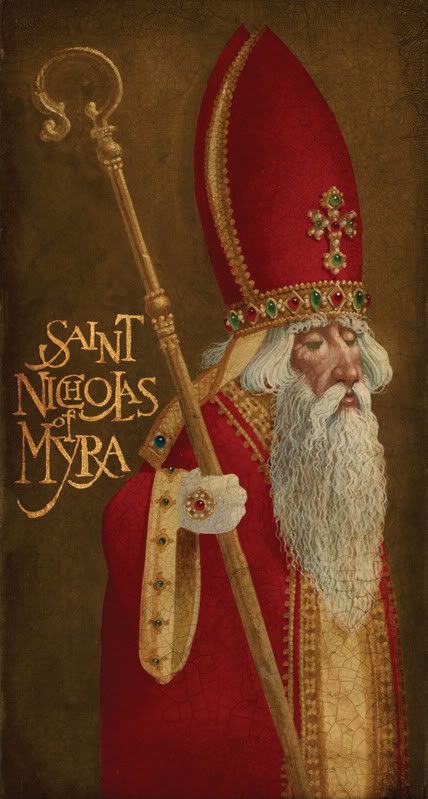 Saint Nicholas, please pray for us!
Sunday, December 03, 2017
First Sunday of Advent
From
The Liturgical Year
, by Abbot Prosper Gueranger, OSB:
Act Of Communion During Advent
It is true that everything in Advent is so arranged as to be a preparation for the coming of the Saviour at the feast of Christmas, and that the spirit of the faithful should be one of earnest expectation of this same Saviour; and yet, such is the happy lot of the children of the new Law, that they can, if they wish it, really, and at once, receive this God whom the Church is expecting; and thus, this familiar visit of Jesus will become itself one of the preparations for His great and solemn visit. Let those, then, who are living the life of grace, and to whom the glorious day of the Nativity of our Lord Jesus Christ will bring an increase of spiritual life, not omit to prepare, by Communion, for the reception they intend to give to the heavenly Spouse on the sacred night of His coming.
These Communions will be interviews with their divine Lord, giving them confidence, and love, and all those interior dispositions wherewith they would welcome Him who comes to load them with fresh grace, for this Jesus is full of grace and truth.
They will understand this better by reflecting on the sentiments which the august Mother of Jesus had in her blessed soul during the time which preceded the divine birth.
This birth is to be an event of more importance, both to the salvation of mankind and to Mary's own glory, than even that of the first accomplishment of the Incarnation; for the Word was made Flesh in order that He might be born. The immense happiness of holding in her arms her Son and her God, would make the sacred hour of Jesus' birth dearer and happier to Mary, than even that in which she was overshadowed by the Holy Ghost, and received from Him the divine fruit of her womb.
During those nine months, when she knew that her Jesus was so undividedly hers, what must have been the happiness which filled her heart! It was a bliss which was a worthy preparation for that more blissful night of Bethlehem.
Christians! your Communions during Advent are to prepare you for your Christmas joy, by giving you something of the delight which Mary felt before the birth of Jesus.
ACT OF FAITH
Knowing that thou art about to enter under my roof, O eternal God, Jesus Son of the Father, I have need of all my faith. Yes, it is thou who art coming to me, thou who didst enter into Mary's virginal womb, making it the sanctuary of thy Majesty. Thou didst send thine angel to her, and she believed his word, when he said: 'Nothing is impossible to God: the Holy Ghost shall come upon thee, and the power of the Most High shall overshadow thee.' She believed, and then conceived in her chaste womb him who had created her.
Thou hast not sent an angel to me, O my Saviour, to tell me thou art coming into my heart. Thou hast spoken thyself, and thou hast said: 'I am the living Bread come down from heaven: he that eateth my Flesh and drinketh my Blood, abideth in me and I in him.' Thou hast willed that these words of thine, spoken so many hundred years ago, should reach me by thy Church, that thus I might have both the certainty that they are thine, and the merit of bowing down my reason to the deepest of mysteries.
I believe then, O Jesus! Help the weakness of my faith. Enable me to submit, as Mary did, to thy infinite wisdom; and since thou desirest to enter under my roof, I bow down my whole being before thee, using her blessed words: 'May it be done to me according to thy word;' for how dare I, who am but nothingness, resist thee, who art all wisdom and power!
Saint Francis Xavier, Confessor
Read what The Catholic Encyclopedia has to say about this great missionary and apostle
.
BTW, his last name is properly pronounced in English "Zaahviar," or "Zaahviah" if you speak with with a Boston accent. It is never "ExAvier." The X is always pronounced like a Z. You can trust me on this one. I went to a prep school run by the Xaverian Brothers, and for 3 of my four years, my Latin class was held in Xavier Hall (and taught by a great Latin teacher, Brother Joseph Comber, CFX!).
Saint Francis Xavier, please pray for us!
Saturday, December 02, 2017
Saint Vivian, Virgin & Martyr
The Catholic Encyclopedia on this Roman martyr.
Saint Vivian, please pray for us!
Leaving Off the Salve Regina
Today is the last day in the 2017 liturgical year. Tomorrow is the First Sunday Of Advent. Since this is the case, those who use forms of the Office (I pray the Little Office at least on Saturdays), change forms with the start of Advent, which is First Vespers tonight. The very familiar Salve Regina, which has been the Marian antiphon with which Compline concludes since after Pentecost Sunday, is set aside, in favor of the Alma Redemptoris Mater, for the duration of Advent. Likewise, if you have a home altar, and vest it, at least partially, the Green cloth which has been there since after Whitsunday, gives way to purple.

But at least that does not mean that we put aside the Salve Regina entirely. We still conclude the Rosary with this much loved prayer.

Alma Redemptoris Mater

Alma Redemptoris Mater, quae pervia caeli
Porta manes, et stella maris, succurre cadenti,
Surgere qui curat, populo: tu quae genuisti,
Natura mirante, tuum sanctum Genitorem
Virgo prius ac posterius, Gabrielis ab ore
Sumens illud Ave, peccatorum miserere.

From the first Sunday of Advent until Christmas Eve:
V. Angelus Domini nuntiavit Mariae
R. Et concepit de Spiritu Sancto.
Oremus:
Gratiam tuam quæsumus, Domine, mentibus nostris infunde; ut qui, angelo nuntiante, Christi Filii tui Incarnationem cognovimus, per passionem ejus et crucem, ad resurrectionis gloriam perducamur. Per eumdem Christum Dominum nostrum.
Amen.

Friday, December 01, 2017
Saint Edmund Campion, Priest & Martyr
The Catholic Encylopedia
on this heroic martyred priest.
Wikipedia
Here is the text of
Campion's Brag
, his defense of the Faith against the English protestant establishment.
To the Right Honourable, the Lords of Her Majesty's Privy Council:
Whereas I have come out of Germany and Bohemia, being sent by my superiors, and adventured myself into this noble realm, my dear country, for the glory of God and benefit of souls, I thought it like enough that, in this busy, watchful, and suspicious world, I should either sooner or later be intercepted and stopped of my course.
Wherefore, providing for all events, and uncertain what may become of me, when God shall haply deliver my body into durance, I supposed it needful to put this in writing in a readiness, desiring your good lordships to give it your reading, for to know my cause. This doing, I trust I shall ease you of some labour. For that which otherwise you must have sought for by practice of wit, I do now lay into your hands by plain confession. And to the intent that the whole matter may be conceived in order, and so the better both understood and remembered, I make thereof these nine points or articles, directly, truly and resolutely opening my full enterprise and purpose.
i. I confess that I am (albeit unworthy) a priest of the Catholic Church, and through the great mercy of God vowed now these eight years into the religion [religious order] of the Society of Jesus. Hereby I have taken upon me a special kind of warfare under the banner of obedience, and also resigned all my interest or possibility of wealth, honour, pleasure, and other worldly felicity.
ii. At the voice of our General, which is to me a warrant from heaven and oracle of Christ, I took my voyage from Prague to Rome (where our General Father is always resident) and from Rome to England, as I might and would have done joyously into any part of Christendom or Heatheness, had I been thereto assigned.
iii. My charge is, of free cost to preach the Gospel, to minister the Sacraments, to instruct the simple, to reform sinners, to confute errors—in brief, to cry alarm spiritual against foul vice and proud ignorance, wherewith many of my dear countrymen are abused.
iv. I never had mind, and am strictly forbidden by our Father that sent me, to deal in any respect with matter of state or policy of this realm, as things which appertain not to my vocation, and from which I gladly restrain and sequester my thoughts.
v. I do ask, to the glory of God, with all humility, and under your correction, three sorts of indifferent and quiet audiences: the first, before your Honours, wherein I will discourse of religion, so far as it toucheth the common weal and your nobilities: the second, whereof I make more account, before the Doctors and Masters and chosen men of both universities, wherein I undertake to avow the faith of our Catholic Church by proofs innumerable—Scriptures, councils, Fathers, history, natural and moral reasons: the third, before the lawyers, spiritual and temporal, wherein I will justify the said faith by the common wisdom of the laws standing yet in force and practice.
vi. I would be loath to speak anything that might sound of any insolent brag or challenge, especially being now as a dead man to this world and willing to put my head under every man's foot, and to kiss the ground they tread upon. Yet I have such courage in avouching the majesty of Jesus my King, and such affiance in his gracious favour, and such assurance in my quarrel, and my evidence so impregnable, and because I know perfectly that no one Protestant, nor all the Protestants living, nor any sect of our adversaries (howsoever they face men down in pulpits, and overrule us in their kingdom of grammarians and unlearned ears) can maintain their doctrine in disputation. I am to sue most humbly and instantly for combat with all and every of them, and the most principal that may be found: protesting that in this trial the better furnished they come, the better welcome they shall be.
vii. And because it hath pleased God to enrich the Queen my Sovereign Lady with notable gifts of nature, learning, and princely education, I do verily trust that if her Highness would vouchsafe her royal person and good attention to such a conference as, in the second part of my fifth article I have motioned, or to a few sermons, which in her or your hearing I am to utter such manifest and fair light by good method and plain dealing may be cast upon these controversies, that possibly her zeal of truth and love of her people shall incline her noble Grace to disfavour some proceedings hurtful to the realm, and procure towards us oppressed more equity.
viii. Moreover I doubt not but you, her Highness' Council, being of such wisdom and discreet in cases most important, when you shall have heard these questions of religion opened faithfully, which many times by our adversaries are huddled up and confounded, will see upon what substantial grounds our Catholic Faith is builded, how feeble that side is which by sway of the time prevaileth against us, and so at last for your own souls, and for many thousand souls that depend upon your government, will discountenance error when it is bewrayed [revealed], and hearken to those who would spend the best blood in their bodies for your salvation. Many innocent hands are lifted up to heaven for you daily by those English students, whose posterity shall never die, which beyond seas, gathering virtue and sufficient knowledge for the purpose, are determined never to give you over, but either to win you heaven, or to die upon your pikes. And touching our Society, be it known to you that we have made a league—all the Jesuits in the world, whose succession and multitude must overreach all the practice of England—cheerfully to carry the cross you shall lay upon us, and never to despair your recovery, while we have a man left to enjoy your Tyburn, or to be racked with your torments, or consumed with your prisons. The expense is reckoned, the enterprise is begun; it is of God; it cannot be withstood. So the faith was planted: So it must be restored.
ix. If these my offers be refused, and my endeavours can take no place, and I, having run thousands of miles to do you good, shall be rewarded with rigour. I have no more to say but to recommend your case and mine to Almighty God, the Searcher of Hearts, who send us his grace, and see us at accord before the day of payment, to the end we may at last be friends in heaven, when all injuries shall be forgotten.
Thursday, November 30, 2017
Saint Andrew, Apostle & Martyr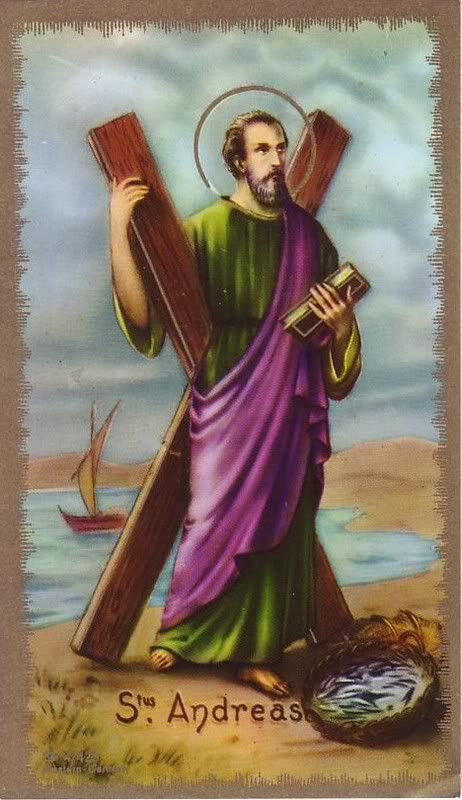 From

The Golden Legend
Today, the Church celebrates Saint Andrew, brother of Simon Peter, disciple of John the Baptist, and Apostle of the Lord.
Andrew was a fisherman from Capharnaum. He was with John the Baptist at the time of the baptism of the Lord, and followed Him from that time, later bringing Peter into the fold of the apostolic college. It was Andrew who reported the state of the food supply to the Lord before the feeding of the five thousand. But ortherwise, he appears to have faded into the apostolic group.
Andrew exercised his ministry in the region of the Black Sea, and was crucified on an "X" form crucifix at Patras in Achaia. He is the patron of fishermen and fishmongers, as well as patron of Scotland.
The St. Andrew's Novena (also called the Christmas Anticipation Novena) begins today, and runs through Christmas Eve.
"Hail and blessed
be the hour and the moment
when the Son of God was born
of the most pure Virgin Mary,
at midnight,
in a stable,
in Bethlehem,
in the piercing cold.
In that hour vouchsafe,
O my God,
to hear my prayer
and grant my desires,
through the merits
of Our Savior Jesus Christ,
and of His Blessed Mother.
Amen."